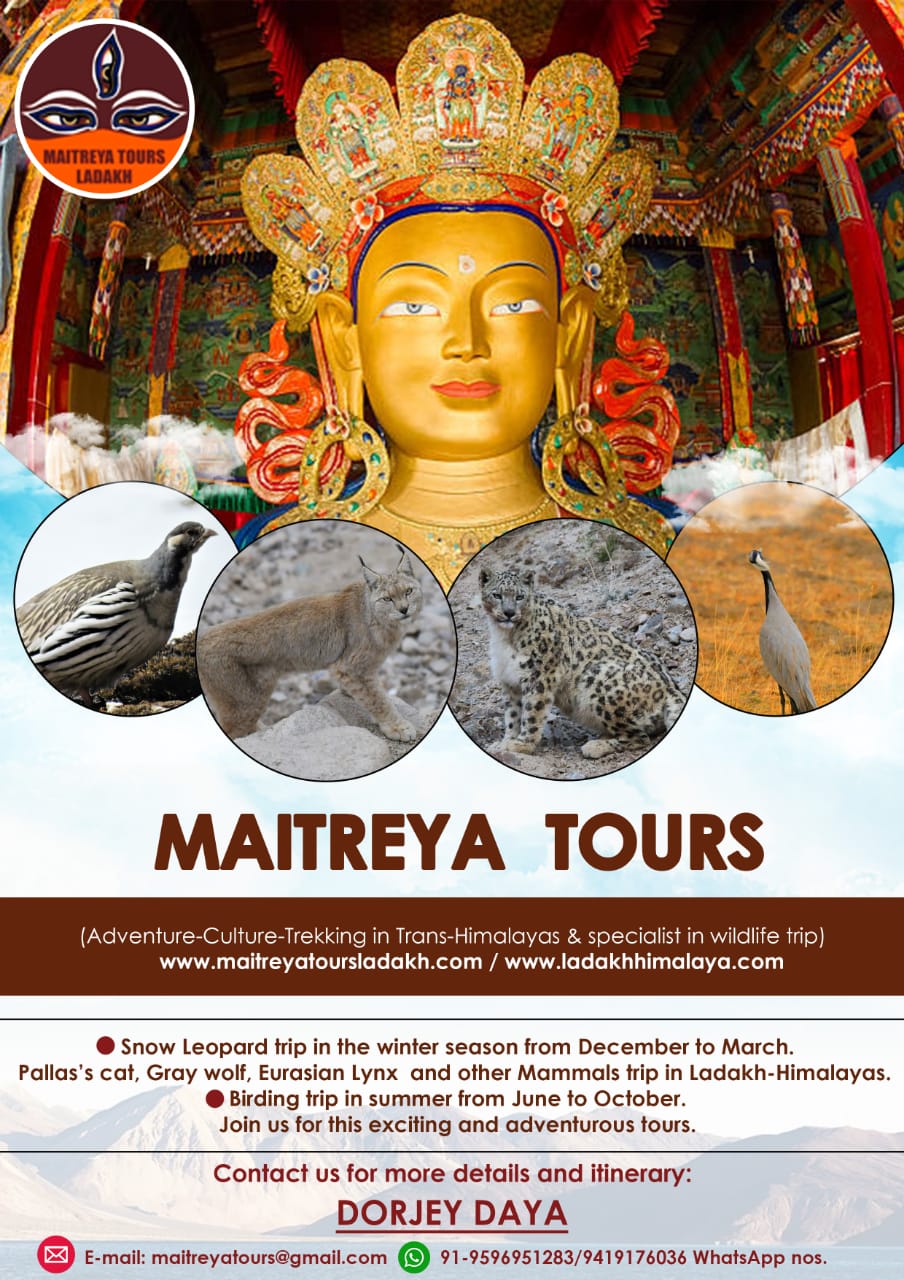 MAITREYA TOURS
MAITREYA TOURS-Ladakh-Himalayas, is a Travel company and Tour operator based in Leh -Ladakh, registered under the Department of Tourism; Jammu & Kashmir Govt.of India and an active member of All Ladakh Tour Operators Association (ALTOA). It is operated and lead by Dorjey Daya and his team of dynamic and young experienced people, who have work in this field for more than 2 decades now and has travel to every part of this Himalayan region and different part of India before the start of this company. Now & times of experienced in the tourism industry, we have the utmost sort out experienced to deal with our esteemed clients and clients demand to fulfil to the highest satisfatory level. Specialist in organizing birding trip in and around Ladakh and experienced in organize Snow Leopard trek in winter.
MAITREYA TOURS has its own accommodation at the bank of river Indus; 10 minute drive from Leh airport/Leh market and from here we organize your trip to different part of Leh-Ladakh. Our property is called Maitreya Residency and has 4 double attached rooms & 2 Tripe Attached rooms with spacious & wide window with the beautiful views of Stok Kangri 6300mts peak. It has the best view of indus river following down just below the window and has also beautiful spacious garden with lots of variety of flowers at its garden. it is at a very peaceful place to stay for few days & relax.
We at Maitreya also organize all the travel related services and have all the expertice trekking routes guides & tour Escort. We have also very good rate for the hotels in Leh and surrounding area of Ladakh.
Dorjey Daya is one of expert in birds & Mammal in Ladakh-himalayas; so one of the Founder member of Wildlife Conservation & Birds Club of Ladakh (WCBCL). www.wcbcl.org
Read more